Bill Hiscox attended the Commission's hearings last week.  Here is some of what  Brian Hutchinson of the National Post had to say about his visit:
"Despite all that he knew, despite his efforts to assist police during their tragically flawed investigation of serial killer Robert "Willie" Pickton, despite his willingness to answer any question put to him now, in the long-overdue search for the truth, Bill Hiscox will not be heard at the Missing Women Commission of Inquiry.
He's not on the inquiry's private list of potential witnesses. He's been cast aside again, and he can't understand why.
…..
He says he's still available, should the inquiry ever wish to hear from him. It was two months ago that lawyer Cameron Ward requested that Mr. Hiscox be added to the witness list, along with Pickton's brother David, who lived on the family farm while murders were being committed there. While Mr. Oppal has not ruled on the requests, a senior inquiry source says they will be rejected. The commissioner is not obliged to explain his decisions to the public, for whom the inquiry was called."
To repeat, the National Post reports today that " a senior inquiry source says [our application for more witnesses] will be rejected".  Really?  Is "a senior inquiry source" advising the media of the disposition of our formal application before the Commission tells us what it has decided?

It seems that I may have ruffled a few feathers with my statement the other day that "I'm afraid that this Commission may be enabling a cover up".  It also seems that people are interested.  I just received a copy of the following email from a member of the public to the Commission:
"I have been following the news on the inquiry, and at first I thought Mr. Ward was bit of a dramatist, referring to a cover-up, and suggesting the inquiry was enabling it, but the more I read, the more it appears he is more than correct.  It stinks, and missing notes, missing files, excluded witnesses, evasive answers by police, and overall lack of disclosure are just the tip of the iceberg.  This is going to be a political disaster, and completely undermine the credibility of, and trust in, our judicial system and current liberal government–remember HST?  Unless the entire record pertaining to the investigation of police, politician [sic] and any other professionals involved is disclosed, this with [sic] be a bigger disaster than HST and the BC Rail combined.  You cannot allow a coverup, or even the appearance of one–the fallout from the public will be far worse for a coverup, than the ugly truth of this fiasco seeing the light of day, or the money and time it takes to thoroughly investigate. 
Why does it appear that Pickton was protected for years from investigation, from the kind of surveillance that would have caught him?  There were competent officers who knew he was beyond a strong suspect, and there is no doubt that the investigation was bungled.  But was it bungled because of a police and legal system who just didn't care, and who thought the lives of these vulnerable women mattered so little that they couldn't be bothered, or was there a connection with Pickton specifically that those some people in charge were trying to cover up.   There have been rumours for years that high level police and political figures were connected to the Pickton [sic]  (maybe attended his parties?), it would be very nice to put an end to the speculation with an open and honest investigation and allow all materials in."
…..
I don't use words like "cover up" and "whitewash" lightly, but I do try to call a spade a spade.  I recognise police cover ups when I see them, and I see them frequently, especially in the most serious cases.  The police are masterful at seizing control of an issue and deciding what is available for public consumption.  They do this by first investigating the matter themselves and making sure the documentary record is sanitized.  Those documents they decide to release for third party scrutiny are jumbled into a disorganized mess and dumped on their adversaries, in the hope that by the time they are reorganised, it's too late to force the delivery of the critical missing information.
I hope to publish a book on this subject one day, outlining the attempted investigative cover ups of the 1998 "Riot at the Hyatt", David Bruce-Thomas' savage fatal beating of Jeffrey Berg, Russ Sherematta's fatal shooting of Kevin St. Arnaud…and others.
Before that day comes, I'll keep trying my best to ensure that this is a bona fide public inquiry.

Commissions of inquiry can benefit the public by stripping away coats of institutionally applied whitewash and exposing a scandal to public scrutiny, so that appropriate steps can be taken to ensure something similar is never repeated.  However, a government can cynically manipulate a commission by restricting its operation so severely that a cover up is actually perpetuated.
That, according to Commissioner Peter Desbarats, is exactly what happened in the Somalia Inquiry, a public inquiry established to investigate the 1993 death of sixteen year old Shidane Arone at the hands of members of the Canadian Airborne Regiment.  In his compelling book, "Somalia Cover-Up: A Commissioner's Journal", Mr. Desbarats chronicles the way his commission was shut down as it attempted to pursue the truth.
"Significant information was made available to [the Commission] only after lengthy delays.  Clear evidence emerged that documents were being tampered with.  Conflicting testimony from different sources made it obvious that some of the witnesses were telling lies", is the way the dust jacket summarizes Mr. Desbarats' account.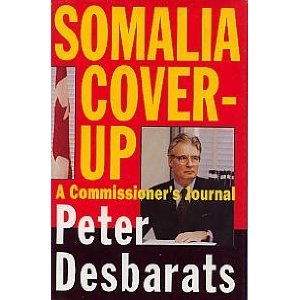 …..
In the Missing Women Commission of Inquiry, the institutional participants have reached into their bag of tricks to pull out tactics we have seen over and over again in at least fifteen previous administrative tribunal hearings.  They've tried to achieve control of the story by internally investigating the matter themselves and divulging their results preemptively.  They've deluged the tribunal with a disorganized jumble of documents in the hope that under-resourced and overworked lawyers spend so much time sorting through the mess that they don't realize that critical records have been withheld from them until its too late.  They've "lawyered up" to try tilt the already slanted playing field even more dramatically in their favour.
Meanwhile, Attorney General Shirley Bond has imposed such a restrictive time frame on the Commissioner, former Attorney General Wally Oppal, that it is apparent that there will be inadequate time to hear from many important witnesses.
Those witnesses who do attend the hearings are being asked to recall events from 10 – 15 years ago.  In such circumstances, documents created back then play a crucial role in ferreting out the truth.  The following are just a few examples of records that are still missing from the Missing Women Commission of Inquiry:
Crown Counsel's files relating to the charges of attempted murder, forcible confinement, assault with a weapon and aggravated assault arising from Robert Willy Pickton's March 23, 1997 attack of a Vancouver women at the Port Coquitlam property he shared with his brother, charges that were stayed in 1998;
The book written by lead VPD investigator Lori Shenher about the investigation, which was apparently submitted to McClelland & Stewart for publication in 2003;
Shenher's own investigative file, delivered to the RCMP-controlled Project Evenhanded in 2001 and then apparently withheld from her and from the Commission ever since;
Police emails about the investigations;
Records of a meeting held April 9, 1999 attended by Shenher, then Attorney General Ujjal Dosanjh, two other cabinet ministers, their aides and senior managers of the VPD and RCMP at a time when Shenher considered Pickton to likely be responsible for the disappearancesand murders of the missing women;
Police officers' notes of a "brainstorming session" held at VPD headquarters a little over a month later, May 13, 1999, when, according to Shenher's testimony, Pickton's likely role as perpetrator of the crimes was discussed "at length" by the 18 police officers in attendance.  One of those was VPD Deputy Chief Doug LePard, who wrote the VPD's internal internal investigative report.
These missing documents, and others, are vitally important to our clients, the families of 25 murdered women, who are trying to determine why the Crown, the VPD and the RCMP failed to stop Pickton's five year long murder spree.
…..
The last two sentences of Peter Desbarats' book, Somalia Cover-Up, gives us cause for optimism:
"The truth will eventually emerge.  It almost always does."

The lead VPD investigator on the missing women investigation testified Tuesday that after Robert "Willy" Pickton was arrested, she wrote a book about her experiences investigating the missing women cases.  We immediately asked for production of the manuscript.
Det. Cst. Lori Shenher's manuscript was to be published as a 320 page paperback by McLelland & Stewart in September of 2003.  When the Globe and Mail and the Province newspapers reported in April 2003 that Shenher was writing a book about the case, VPD spokesperson Anne Drennan flatly denied it. 
David Crossin, Q.C. objected to our disclosure application on the basis that the book's contents were irrelevant to the inquiry.  If we understand the argument, the lead investigator's factual account of the missing women investigation is said to be "irrelevant" to the Commission mandated to inquire into the conduct of the missing women investigation.
Mr. Crossin was directed to review the manuscript and determine whether it is relevant to the inquiry.  We await the outcome of his review with interest.

This from Matthew Burrows in today's Georgia Straight:
A long-time Downtown Eastside activist who tried for many years to raise the alarm about a serial killer preying on sex-trade workers in her neighbourhood may choose not to testify at the B.C. missing women's inquiry. "I am seriously considering withdrawing, because it makes me feel as though the report has already been written, with all the focus on the policing aspect of it, and the actions of the commissioner," Jamie Lee Hamilton, an advocate for LGBT issues, said by phone on February 1.
 Hamilton confirmed she is scheduled to speak to the commission, but added, "They're spending so much time with the police, the different various policing officials. I believe that they have 34 policing officials on their witness list and I think they've only got through four of them so far. So it's very concerning."
 Earlier, Hamilton slammed Commissioner Wally Oppal for his treatment of lawyer Cameron Ward, who is representing the families of 25 missing and murdered women. Hamilton told the Straight that lawyer Jason Gratl, hired by the commission to represent the interests of Downtown Eastside residents—and in particular sex workers' interests generally—is also getting short shrift at the inquiry.
 "And yet, there are all these lawyers for the police—I think there are 19 now—and they are always getting up and taking their time, they are objecting, objecting, objecting," Hamilton claimed. "If the commissioner wants this to be a credible inquiry, he needs to take a stand now, and he needs to get rid of all the lawyers. Because there doesn't have to be those lawyers there."
 Hamilton said she had a clothing boutique on Hastings Street from 1993 to 1997, where many of the Downtown Eastside murdered sex-trade workers had shopped and "hung out".
 "I knew Sarah de Vries, who lived right around the corner," Hamilton added. "I knew Angela Jardine, I knew Helen Hallmark. I knew Andrea Joesbury, I knew Serena Abbotsway."
 And Hamilton also knew Det. Const. Lori Shenher, who is now testifying downtown.
"I phoned her [Shenher] to say that, during the past three years, there's been 21 women go missing," Hamilton said, referring to a 1998 conversation. "I had a complete breakdown of the years. She demanded to know how I got that information. I said, 'It doesn't matter how I got the information. These are the facts. Are you going to verify those numbers?' Just previous to that, I had reached the civilian person in the office, Sandy Cameron, who was just awful to me and rude. I kept notes of that. So when I talked to Shenher, Shenher then said to me, 'Yeah, your numbers are correct, but please don't release that information, because it's going to create a panic.' I said, 'I can't do that.' I said women have to be warned that there is a serial killer down here."
Hamilton conceded in closing that it could be "sad" for a lot of people if someone with her history and close relationship to the victims of Robert Pickton does not testify when she has the chance to.
"I think it's sad as well, but it appears that the commission of inquiry is a whitewash, and it doesn't appear that they want to hear from community members or family members," she said. "They're giving allocation of all the time to police officials. Doug LePard, who wasn't even involved in the cases back in the day—but wrote the report—he was on the stand for two weeks. The officer from Ontario [Jennifer Evans] was a week. Kim Rossmo was close to a week, and now we're already on the third day for Lori Shenher. And she'll be on most of this week and most of next week."