Commissions of inquiry can benefit the public by stripping away coats of institutionally applied whitewash and exposing a scandal to public scrutiny, so that appropriate steps can be taken to ensure something similar is never repeated.  However, a government can cynically manipulate a commission by restricting its operation so severely that a cover up is actually perpetuated.
That, according to Commissioner Peter Desbarats, is exactly what happened in the Somalia Inquiry, a public inquiry established to investigate the 1993 death of sixteen year old Shidane Arone at the hands of members of the Canadian Airborne Regiment.  In his compelling book, "Somalia Cover-Up: A Commissioner's Journal", Mr. Desbarats chronicles the way his commission was shut down as it attempted to pursue the truth.
"Significant information was made available to [the Commission] only after lengthy delays.  Clear evidence emerged that documents were being tampered with.  Conflicting testimony from different sources made it obvious that some of the witnesses were telling lies", is the way the dust jacket summarizes Mr. Desbarats' account.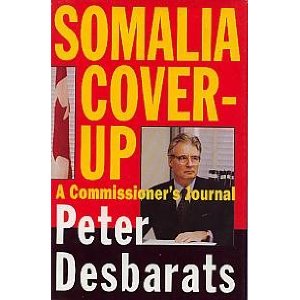 …..
In the Missing Women Commission of Inquiry, the institutional participants have reached into their bag of tricks to pull out tactics we have seen over and over again in at least fifteen previous administrative tribunal hearings.  They've tried to achieve control of the story by internally investigating the matter themselves and divulging their results preemptively.  They've deluged the tribunal with a disorganized jumble of documents in the hope that under-resourced and overworked lawyers spend so much time sorting through the mess that they don't realize that critical records have been withheld from them until its too late.  They've "lawyered up" to try tilt the already slanted playing field even more dramatically in their favour.
Meanwhile, Attorney General Shirley Bond has imposed such a restrictive time frame on the Commissioner, former Attorney General Wally Oppal, that it is apparent that there will be inadequate time to hear from many important witnesses.
Those witnesses who do attend the hearings are being asked to recall events from 10 – 15 years ago.  In such circumstances, documents created back then play a crucial role in ferreting out the truth.  The following are just a few examples of records that are still missing from the Missing Women Commission of Inquiry:
Crown Counsel's files relating to the charges of attempted murder, forcible confinement, assault with a weapon and aggravated assault arising from Robert Willy Pickton's March 23, 1997 attack of a Vancouver women at the Port Coquitlam property he shared with his brother, charges that were stayed in 1998;
The book written by lead VPD investigator Lori Shenher about the investigation, which was apparently submitted to McClelland & Stewart for publication in 2003;
Shenher's own investigative file, delivered to the RCMP-controlled Project Evenhanded in 2001 and then apparently withheld from her and from the Commission ever since;
Police emails about the investigations;
Records of a meeting held April 9, 1999 attended by Shenher, then Attorney General Ujjal Dosanjh, two other cabinet ministers, their aides and senior managers of the VPD and RCMP at a time when Shenher considered Pickton to likely be responsible for the disappearancesand murders of the missing women;
Police officers' notes of a "brainstorming session" held at VPD headquarters a little over a month later, May 13, 1999, when, according to Shenher's testimony, Pickton's likely role as perpetrator of the crimes was discussed "at length" by the 18 police officers in attendance.  One of those was VPD Deputy Chief Doug LePard, who wrote the VPD's internal internal investigative report.
These missing documents, and others, are vitally important to our clients, the families of 25 murdered women, who are trying to determine why the Crown, the VPD and the RCMP failed to stop Pickton's five year long murder spree.
…..
The last two sentences of Peter Desbarats' book, Somalia Cover-Up, gives us cause for optimism:
"The truth will eventually emerge.  It almost always does."