November 25, 2011 in News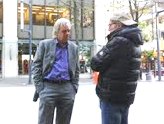 Director Robert Redford recently took a few moments out of his busy schedule to chat with me after filming some scenes in my offices.  I'm really looking forward to seeing his new movie The Company You Keep, a thriller based on Neil Gordon's novel, since it features some of my favourite actors.  Besides Mr. Redford himself, who is playing Albany lawyer Jim Grant, the star-studded cast includes Anna Kendrick, Shia LaBeouf, Stanley Tucci, Brit Marling, Brendan Gleeson, Susan Sarandon, Nick Nolte, Sam Elliott, Chris Cooper, Stephen Root, Julie Christie, Terrence Howard, Richard Jenkins and Lochlyn Munro.
It must be hard to live one's adult life constrained by the trappings of celebrity, as Mr. Redford has done, but in our brief meeting he struck me as a truly pleasant and likeable gentleman.  Of course, his impressive professional record as an actor, director and outspoken activist speaks for itself, but it's nice to get the sense that the man himself may even surpass his sterling reputation.  I hope that the film succeeds beyond his and team's expectations.