Deputy Chief Doug LePard of the Vancouver Police Department embarks on his tenth day of testimony today.  A thirty year veteran of the VPD, LePard apparently had next to nothing to do with the investigations that are the subject of this inquiry, but has played the role of VPD spokesman on the matter since last summer. 
The families of the victims continue to wait patiently for a chance to question Crown Counsel and police about why Robert William Pickton was not prosecuted for attempted murder and other serious charges in 1998.  The incident of March 23, 1997, when Pickton nearly killed a Vancouver woman in his Port Coquitlam trailer, was a crucial and pivotal event.  The Crown's decision to stay the serious charges allowed Pickton remained free to kill dozens of women over the years that followed, including many of our clients' loved ones, and may have cost taxpayers up to $200 million in later investigative and legal costs.
The families also want to question those who can explain why the VPD and RCMP failed to apprehend Pickton when they apparently had him squarely in their sights as early as August, 1998.
Pickton was eventually charged with 27 murders after a "serendipitous" 2002 search of the Port Coquitlam property he and his brother lived on turned up evidence of the missing women's remains and possessions.  He was later convicted of killing six women, one charge was dismissed for lack of evidence, and the Attorney General decided to stay 20 other murder charges against him.  We understand that the provincial government committed to a proper, thorough, and independent public inquiry into this tragedy, not a rehashing of police reviews of the case.
For example, here's what the Canadian Press reported on September 9, 2010:
"The province's attorney general announced Thursday that hearings will examine how police handled reports of sex workers disappearing from Vancouver's poverty-stricken Downtown Eastside, many of whom ended up dead on Pickton's farm in nearby Port Coquitlam.
Pickton's arrest and subsequent year-long trial received intense international attention, but Attorney General Mike de Jong said there is much we still don't know.
'This is a situation in which upwards of 50 human beings went missing. We believe many, if not all, of those individuals were murdered,' de Jong told reporters following a provincial cabinet meeting in Victoria.
'There are still lingering questions about the nature of these investigations, questions about whether more could have been done sooner, are we in a position to learn from the investigations and mistakes that may have been made.'
The inquiry will have the power to compel testimony from witnesses and will make recommendations to prevent the horrific tragedy from repeating itself.
De Jong said he wants to know how dozens of women could disappear for years before authorities determined the disappearances could be the work of a single killer.
'How did this happen?" said de Jong.
'How is it that human beings, members of our society, whatever their socioeconomic circumstances, could go missing in the manner that they did without it seeing a full appreciation of the magnitude of what it seems was taking place until some years had passed?'
Pickton was arrested in 2002, setting off a massive search of his sprawling farm where investigators found the remains or DNA of 33 women. He was charged in the deaths of 27 women and eventually convicted of six counts of second-degree murder.
His convictions were upheld by the Supreme Court of Canada in July and prosecutors have said they don't intend to pursue any further criminal charges, including the 20 further murder charges he had been facing.
Lillian Beaudoin's sister Diane Rock was among the victims covered in those 20 charges.
'I just want justice," Beaudoin said in an interview Thursday. 'And if justice means digging this far deep into it and finding out why the police made all the mistakes that they made and how this could have been prevented (that's) one of my main concerns.'"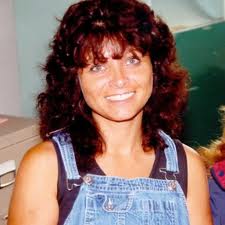 Dianne Rock, murdered in late 2001