September 19, 2006 in News
October 5 update: Betty Krawczyk appeared before the Court today to learn that her criminal contempt of court trial has been adjourned to January 29, 2007. Mr. Ward withdrew as counsel, stating "Mrs. Krawczyk has instructed me to advise the Court that she perceives this prosecution to be unfair and an officially induced abuse of process. As a result of the ruling [that evidence of abuse of process is irrelevant and inadmissible] she feels she has no further need or desire for legal counsel and will defend herself when the trial resumes."
September 29 update: Madam Justice Brown delivered oral reasons for judgment today, concluding that evidence intended to support an application for a stay of the prosecution as an abuse of process is irrelevant and inadmissible. The Crown then closed its case, after some eight days of testimony and argument. Ms. Krawczyk is scheduled to appear in BC Supreme Court on October 5, 2006, when dates for the criminal contempt trial's continuation will be discussed.
September 25 update: The criminal trial of Betty Krawczyk resumes Tuesday, September 26th with legal argument on whether she can adduce evidence intended to establish that her prosecution for criminal contempt of court is an abuse of the court process. She seeks to call the Attorney General of BC or his delegate to explain why the police did not simply enforce the law, rendering an injunction order, an enforcement order and contempt proceedings unnecessary. The trial enters its sixth day, with more Crown evidence scheduled.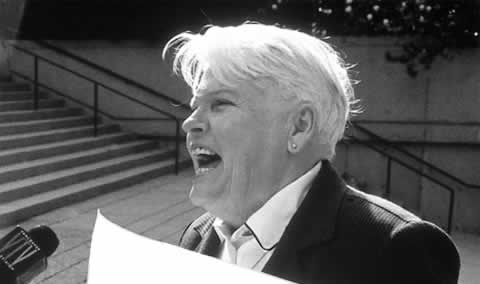 Renowned author, activist and environmentalist Betty Krawczyk faces trial this week on allegations that she disobeyed a court order pronounced in a civil action brought by the companies engaged in the Sea to Sky Highway improvement project. The Attorney General of BC has alleged that the symbolic actions of Krawczyk, 78, in putting herself in the path of excavation equipment to protest the destruction of Eagleridge Bluffs constitute criminal contempt of court.
Earlier, Madam Justice Brenda Brown rejected Krawczyk's assertion that she had a constitutional right to trial by jury and is hearing the criminal case alone, without a jury. It is unclear what punishment "Betty K" will face if convicted. The trial is being conducted in the high security, multi-million dollar Vancouver courtroom built for the Air India trial.