Coretta Scott King, widow of the late Dr. Martin Luther King Jr., has died in Mexico at age 78. May she rest in peace.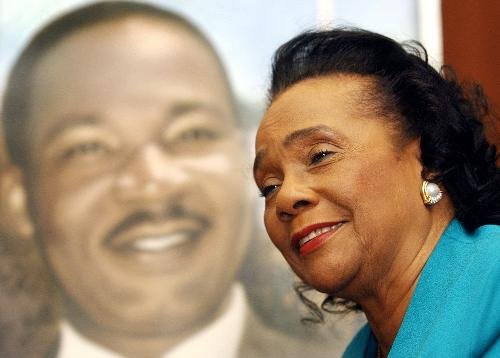 The following obituary appeared in the Miami Herald:
After Martin Luther King Jr. was assassinated in 1968, Coretta Scott King was sometimes compared to Jacqueline Kennedy. The two bereft widows were living symbols of the great loss to America of inspiring, beloved leaders. But such comparisons were unfair to both women, who made different choices on dealing with their unwelcome status as widows of much mourned icons.
Ms. Kennedy withdrew from public life, while Ms. King, who died Monday at age 78, continued to champion civil rights and nonviolent social change. Not long after Dr. King's death on April 4,1968, Ms. King expanded on his mission. In a speech at the Lincoln Memorial during the Poor People's Campaign in June of that year, she spoke of her husband's vision of equality and then of hers, which included "women's power" to fight "racism, poverty and war."
Ms. King was a civil-rights activist before she married Dr. King. She grew up in rural Alabama and knew racism at its most virulent. When the young couple with one child was thrown into the center of the maelstrom of the bus boycott in Montgomery, where Dr. King served as a minister, her personal convictions and love for her husband compelled her to join the struggle.
Ms. King achieved much. She reared her children alone. She persuaded Congress to designate a national holiday in Dr. King's honor. And she raised millions of dollars to build the center in Atlanta that memorializes Dr. King and promotes his principles and practices. Ms. King was a loyal wife, a good mother and something more — she was a good citizen who worked hard for peace and equal rights for all. We need more such good and brave citizens.