The Missing Women Commission of Inquiry enters its third week tomorrow with testimony expected from the families of many of the missing and murdered women.  It is expected that the families will describe their efforts to locate their lost loved ones and the difficulties they had in getting the police to take their concerns seriously.  No police investigators have testified yet.  Since the Commission has indicated that there will be five more weeks (20 days) of hearings before the Christmas break, it is expected that most of the public officials and police officers who can shed some light on why the disappearances and murders went unsolved for so long will be testifying in the new year.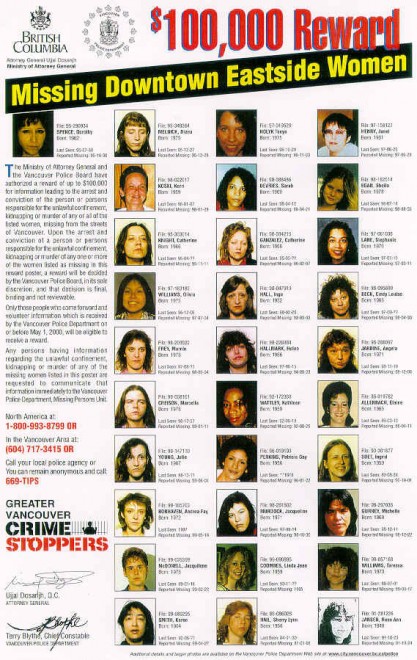 Yesterday afternoon, Cheryl Tobias and Sean Hern, counsel for the RCMP and VPD respectively, joined in a prolonged submission seeking an order from Commissioner Oppal that "there be no publication or broadcast by any means, including on the internet or through social media, of…any information that could reveal the identity of any living person identified as an actual or potential victim, witness, suspect or accused."  The only exception would be thirteen people on a list they submitted.  We have been assured that an order will not be made until we have a chance to respond.
To put this matter into context, the RCMP and VPD have already vetted all the documents that they have produced to the Commission and heavily redacted them pursuant to a protocol reached between their counsel and Commission Counsel, without any prior consultation with us.  In order for us to access the redacted documents, we were obliged to sign an "Undertaking of Counsel" preventing us from discussing or disclosing the material except under strict conditions.  Yesterday morning we learned that counsel for the RCMP intends to vet the redacted documents again and redact them further before they are disclosed to the public in the inquiry process. 
The police are clearly intending to keep a tight lid on any information that is disclosed not only to us as counsel, but to the public. They seem to want to manage and package this story, and disclose only what they want the public to hear.  We perceive that such an approach is contrary to the purpose and intent of a public inquiry and intend to resist any measure that unduly restricts free expression rights or that prevents our clients from learning the truth.  We will use every means at our disposal to pry the lid off this case and help the Commission to ferret out all facts relating to the investigations of the disappearances and murders of Vancouver women. 
On another related front, we have repeatedly expressed our concerns about the adequacy of police document disclosure to date.  We feel that they have barely scratched the surface and that many pertinent records remain undisclosed.  Our application for further and better disclosure is pending.

Dr. Kate Shannon,  an assistant professor in the Department of Medicine at the University of British Columbia and principal investigator for the Maka Project, a research study of downtown east side Vancouver street sex trade workers conducted between 2005 and 2008, testified again today.  She confirmed that in interviews conducted with 255 such women, 23 of them said they had been to Robert William Pickton's farm and 186 of them said they knew women who had been there.  Pickton was convicted of six counts of second degree murder in 2007, after the DNA and remains of downtown east side sex trade workers were found on the Port Coquitlam pig farm he co-owned with his brother and sister.
Dr. Shannon, in her expert opinion report tendered by Commission Counsel at the inquiry, included a dozen quotes from sex trade workers who expressed criticisms about police harassment and the ineffectiveness of the justice system in responding to assaults, abductions and murders of many of their colleagues.
The inquiry continues.

The Missing Women Commission of Inquiry heard from its first witness Thursday.  Professor John Lowman, a criminologist from Simon Fraser University, was called to provide expert testimony on the subject of prostitution in Vancouver.
He described how city officials, residents, and the courts had driven poverty-stricken, drug dependent, poorly educated Native sex trade workers into unsafe dimly lit commercial areas on the downtown eastside, where the police practiced a policy of "containment" and remained largely indifferent to the women's plight, even as the women disappeared from the streets.  In stark contrast, he testified that the city enabled and facilitated well-educated, well-off white female sex trade workers to actively ply their trade in much safer conditions, such as in massage parlours, body rub salons, escort services or as call girls.
Prof. Lowman recounted a conversation he had had with a male Vancouver Police officer, who described treating members of the street sex trade in a way that wouldn't be condoned for any other segment of society.  He confirmed that a recent survey of sex trade workers indicated that they reported that they were almost as likely to be threatened, assaulted or sexually assaulted by police officers as by their clients.  Prof. Lowman recalled that the RCMP, while interested in obtaining "bad date sheets" identifying johns who had reportedly assaulted or abused women that were prepared weekly by two non-profit organisations, the RCMP weren't prepared to cover the cost of postage stamps to receive them.
Towards the end of his first day on the witness stand, Prof. Lowman briefly lost his composure, overwhelmed by the frustration he had experienced in decades of studying the problems created by the street sex trade, only to have his studies and articles fall on deaf ears.
Prof. Lowman's testimony is expected to resume on Monday, October 17, 2011 at the Commission's hearing room; 8th floor, 701 West Georgia Street, Vancouver.

Our clients, the families of 18 missing and murdered women, seek truth, justice and accountability from the Missing Women Commission of Inquiry.  Their questions include:
1)  Why did the law enforcement authorities let Robert William Pickton get away with murder for over five years?
2)  Did Pickton really act alone, or are there more killers preying on the weak and vulnerable members of Vancouver's downtown east side?
……..
The Missing Women Commission of Inquiry has completed its second day of hearings.  Other participants provided opening statements, including Sean Hern, counsel for the Vancouver Police Department, who expressed the VPD's contrition and regret for their mistakes but urged the Commission not to apply the benefits gained by hindsight, Cheryl Tobias, Q.C. for the Department of Justice, who neither apologized nor acknowledged any RCMP shortcomings, and David Crossin, Q.C. for the Vancouver Police Union, who praised the dedication of two police officers, who allegedly gave their heart and soul to the failed investigations.
The hearings move into the first day of evidence, but we learned yesterday that document disclosure issues are even more serious than we thought.  Ms. Tobias indicated that the RCMP have given the Commission 75,000 pages of documents, which seem like a lot, except she told the Commission last December that there were about 2 million pages in the investigative files.  75,000 pages would be less than 4% of the RCMP files on the investigation.  We also learned from the Commission yesterday that "several large files recently disclosed were unable to be loaded due to their size" and that there would be further delay "in loading the police witness disclosure" earlier given by the Commission to Peel Deputy Police Chief Evans (but not yet shared with us).
These document disclosure issues make it impossible to prepare properly for these hearings, an issue which we will no doubt have to address soon.