By a margin of 20-6, the benchers of the Law Society of British Columbia defeated a resolution that would have rejected Trinity Western University's proposed law school as an approved faculty of law.  I was in the minority, along with Joseph Arvay, Q.C., Peter Lloyd, FCA, Sharon Matthews, Q.C., Jamie McLaren and Lee Ongman.
I was influenced, in part, by the December 2013 report of the Special Advisory Committee of the Federation of Law Societies of Canada.  Although the FLSC granted preliminary approval to TWU, it acknowledged that the university's Community Covenant would make members of the GLBT community feel "unwelcome" there.  The FLSC's Special Advisory Committee seemed to suggest that students seeking to attend law school have many other more welcoming options to choose from if they are offended by TWU's discriminatory policies.
Many of the benchers who voted against the resolution (and for TWU's proposed law faculty) cited a 2001 decision of the Supreme Court of Canada which addressed a similar issue in the context of TWU's desire to establish a teachers' college, and suggested that the Law Society was bound by the outcome of that case, which was in favour of TWU.
For my part, I'd like to feel that we live in a more enlightened age today, and that those in positions of leadership in our profession will challenge discrimination on the basis of sexual orientation wherever and whenever it rears its ugly head.

Bill 3, the province's draft Missing Persons Act, is a disappointing consequence of the even more disappointing Missing Women Commission of Inquiry.  Willy Pickton and his associates did not kill dozens of women because the police had insufficient powers – the murders went unaddressed for years because Vancouver police were indifferent to the women's disappearances and because Coquitlam RCMP were, at best, incompetent in dealing with the evil rampant in their community.
Enhancing police power to obtain personal information, as the proposed bill does, will only increase the potential for the abuse of citizens' constitutional rights.

The University of British Columbia seems to be intent on pursuing some of its former students for legal costs as a result of the students' failed court challenge of a massive tuition fee increase (from $7,000 to $28,000) that UBC imposed on them after they were accepted into the MBA program that commenced in 2002.
Although the students' claim was dismissed by the Supreme Court of British Columbia in October of 2004, costs were only recently awarded to UBC after its lawyers pressed the matter forward. The university's lawyers have set down a hearing for February 24, 2014 at the Law Courts, 800 Smithe Street, Vancouver, BC at which time they will seek to have UBC's court costs assessed at $26,202.93.
We represented the student plaintiffs in the original litigation, but we have lost contact with them in the ensuing years.  Any UBC MBA students who were involved in this case should contact our offices immediately.
Once UBC has its costs assessed, it will have a judgment that it can enforce jointly and severally against its former students.  This means that it may pursue one or all of them for any amount assessed, which will surely add insult to injury to anyone affected.  The university quadrupled the students' tuition fees after they had committed to the program and now it apparently intends to present one or more of them with an additional bill.
….
It is anyone's guess why UBC, an institution with an accumulated surplus of over $1.5 billion (according to its most recent annual financial statement), would chase its alumni for $26,000 in court costs.  However, it obviously sees some utility in instructing its lawyers to do so.  In another case decided just recently by the Court of Appeal, University of British Columbia v. Kapelus, 2014 BCCA 42, the court dismissed Jeannine Kapelus' attempt to be excused from paying the university its costs of her failed appeal from a judgment awarding her $42,635.92 in damages for wrongful dismissal.  Although Ms. Kapelus won her case against UBC in 1998, her unsuccessful appeals seeking an increased award have exposed her to UBC's claim of appellate court costs which now exceed $230,000 with accrued interest.  We were not involved in the Kapelus case, but we have some sympathy for her plight.

The coroner's inquest into the RCMP shooting of Greg Matters is scheduled to resume on Monday, January 27, 2014 in Prince George.  The witnesses are expected to include four RCMP members and IIO investigator Rob Stutt.  The jury has heard evidence that Greg Matters, a Canadian Forces veteran suffering from PTSD, was fatally shot in the back at his family homestead on September 10, 2012.
A coroners inquest is a public fact finding inquiry that cannot find fault or lay blame.

The coroner's inquest into the death of Greg Matters continues Tuesday, October 15, 2013 at the Prince George courthouse, with the resumption of the testimony of Greg's mother Lorraine.  Further witnesses will include the RCMP members who were present when Greg Matters was shot twice in the back when he was confronted at his mother's rural Prince George property on Monday, September 10, 2012.  The coroner and jury have heard that RCMP Cpl. Colin Warwick fired the fatal shots.
The shots that killed Greg Matters were fired from a Colt .223 calibre M-16 inscribed with the words "Live Free or Die", depicted in this photograph taken soon after the incident: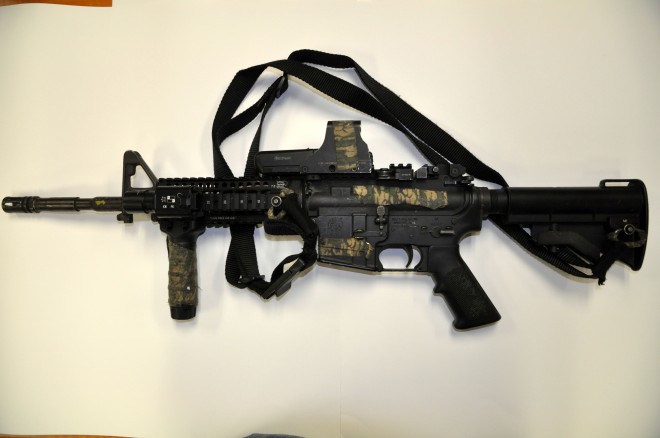 According to a public report issued by the Independent Investigations Office in May, 2013, the police actions in shooting Greg Matters were not criminal because, according to police witnesses, Matters was brandishing a small hatchet (approximately 11 inches long with a four inch blade) above his head when he was shot.
There were no civilian witnesses to the shooting.  Despite jury recommendations made by coroner's juries in many previous fatal RCMP shootings, the RCMP ERT team members apparently did not have video recording devices with them when they were deployed.